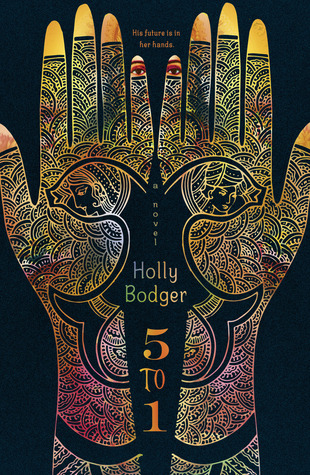 5 to 1 by Holly Bodger
Published by Knopf Books for Young Readers
Expected publication May 12, 2015
---
SUMMARY: In the year 2054, after decades of gender selection, India now has a ratio of five boys for every girl, making women an incredibly valuable commodity. Tired of marrying off their daughters to the highest bidder and determined to finally make marriage fair, the women who form the country of Koyanagar have instituted a series of tests so that every boy has the chance to win a wife.
Sudasa, though, doesn't want to be a wife, and Kiran, a boy forced to compete in the test to become her husband, has other plans as well. As the tests advance, Sudasa and Kiran thwart each other at every turn until they slowly realize that they just might want the same thing.
This beautiful, unique novel is told from alternating points of view-Sudasa's in verse and Kiran's in prose-allowing readers to experience both characters' pain and their brave struggle for hope.
---
REVIEW: In a groundbreaking debut told in alternating points of view, one in poetry and one in prose, Holly Bodger explores a future in which gender selection in India has led to there being 5 boys for every girl.
The prose is captivating in its authenticity, portraying Kiran's point of view very well. The poetry is appropriately jarring and nuanced, showing many aspects of Sudasa's culture and lifestyle. Sudasa is about to come of age, meaning that she, along with many other girls just like her, will watch 8 boys compete for her hand in marriage. Kiran is one of those boys, but he has a plan to escape the tests, escape his inevitable military assignment, and escape the oppression of his country.
Sudasa struggles against her grandmother's strong and repressive influence, while Kiran battles pressures from the other boys in his testing group. Over days of testing and judging, Sudasa comes to realize that Kiran may have another agenda besides winning her in marriage.
Meanwhile, Kiran comes to see that Sudasa is not just a power-hungry woman looking for a male companion to obey her every wish. What these 2 discover puts them on the cusp of changing their worlds forever.
In a not-so-distant future we see the possibilities of giving too much power to one gender or the other, and the negative impact that inequality can have on our young people and an entire country.
---
Review originally published in School Library Journal, February 2015.