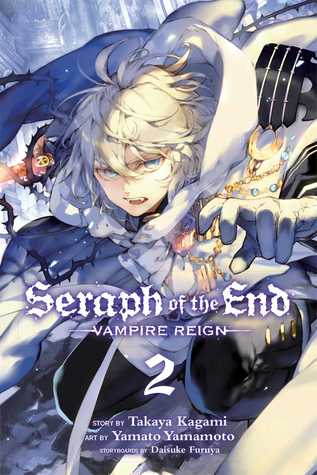 Seraph of the End by Takaya Kagami
Published by Viz Media
Volumes 1-4 currently available in English. Further volumes tbd.
Seraph of the End has been marketed as Attack on Titan with vampires – and I have to say that isn't far off. If you're a fan of Attack on Titan, World Trigger, and Blue Exorcist, than you're going to enjoy Seraph of the End.
It's the story of a boy, Yuichiro, who joins an elite group of soldiers that fights the vampires that have taken over Japan, and possibly the rest of the world. Yui grew up in a vampire orphanage – a place where vampires basically grew humans like cattle and drained their blood to drink it. When Yui and his best friend, Mika, attempt to escape from their vampire keepers, but they don't make it – and all of the other orphans pay for their mistake. 
Yuichiro is headstrong and never listens to authority or follows the rules. He is brave and generous to a fault, putting the lives of innocent civilians first over the lives of his soldier teammates, all in order to exact revenge on the vampires that killed his friends when he was little. Sound like anyone else we know? Yui has a grudge as deep as the Pacific Ocean, and he'll stop at nothing to kill every last vampire. 
The manga is well-drawn, with nice color pages in the front and some interesting extra content in a couple of the volumes. The action is good, the suspense is okay, and the twists are completely predictable, but it's still a really fun manga. In volume 2 the characters get special weapons and you meet an even higher up team of vampire hunters in volume 3, so there's a lot to keep you reading. Highly recommended!