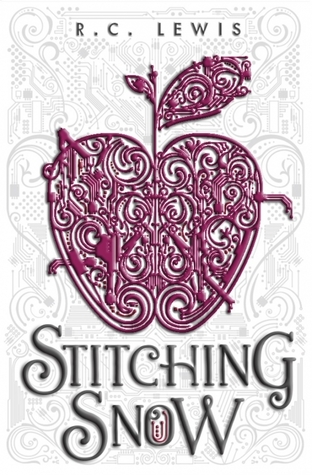 This sci-fi adventure follows in the tradition of Marissa Meyer's CINDER, but has its own unique elements and characters that let it stand completely apart from the Lunar Chronicles series. STITCHING SNOW can definitely sell itself without the fairy tale aspect at all – it is a well-written science fiction adventure featuring a strong and quirky protagonist, a complex male counterpart, and a lot of political intrigue, fighting, and cool technology. The main character, Essie, is different from most heroines. She's a fighter – literally. Essie participates in weekly cage fights to make money. She's a programmer, a mechanic, and is more acquainted with the inside of a drone robot than her own emotions. I loved watching her grow and change, discovering things about her past, and seeing her be such an amazing kick-ass heroine. STITCHING SNOW is highly recommended for fans of The Lunar Chronicles and other fairy tale retellings, or those looking for a solar-system-sweeping sci-fi adventure.
 With a deliciously unique flavor and a fantastically written narrative, ENTANGLED is setting the bar high for teen sci-fi. The main character, Cade, is such a fascinating protagonist. From her troubled upbringing to living off her music, her rocker style to her no-nonsense attitude, Cade is one hell of a girl. She has flaws, makes mistakes, and can't make up her mind. Despite Cade being a super-special human with super-special abilities she isn't annoying, whiny, or entitled. Her quirky voice, interesting slang, and authentic outlook on life kept me turning the pages. There is romance in the story, but it is tertiary to the two more important plot points – Cade finding and rescuing Xan, and Cade's own journey of self-discovery. The romance is extra. It's delightful, and a little weird, and completely tantalizing, but it's not that big of a deal. And I really respect that in a YA novel. The science in this fiction is delightful. Quantum mechanics can often seem wonky or cliched in fiction, but it was not that way here. Big, fancy, sciency words weren't just thrown around to sound cool – the author knows what she's doing. Spaceships and aliens, quantum entanglement and telepathy, holograms and spacesickness. The sequel, and final book, UNMADE, comes out in January 2015 and I am seriously really excited for it!
---
Read-alike Recommendation: If you loved THE LUNAR CHRONICLES by Marissa Meyer and THESE BROKEN STARS by Meagan Spooner & Amie Kaufman, then you would love STITCHING SNOW & ENTANGLED!