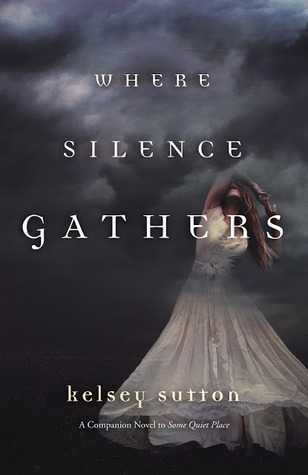 This was the first book I ever reviewed for School Library Journal and so it has a special place in my heart and my review history. I read the first novel, SOME QUIET PLACE, in preparation for reading this one. I believe I read both of Kelsey Sutton's book in a single day. They were mesmerizing, engrossing, and very powerful novels. I didn't expect to like them as much as I did, since I am not the biggest fan of paranormal YA. However, I fell in love with the personified Emotions and Choices as soon as they were introduced. I highly recommend both  novels!
Reviewed originally for School Library Journal on 05/01/2014.
Alexandra Tate has always been able to see personified Emotions, but now she is faced with a Choice. Revenge, her best friend since the drunk driving accident that killed her family, and Forgiveness, a tempting new Choice, compete for her attention. Even six years after the tragedy, Alex struggles with her grief and tries again and again to get justice for her family's murder. Completing her senior year of high school loses priority as Alex uncovers mysteries about her father's past, is chased by haunting voices that no one else can hear, and runs from faceless attackers theatening the lives of her remaining family and friends. A poignant, heart-wrenching story of grief, love, and loss, Where Silence Gathers combines an authentic narrative with tantalizing supernatural elements to create a powerful companion novel to Sutton's debut, Some Quiet Place (Flux, 2013). This will appeal to fans of paranormal romances like Kami Garcia and Meredith Stoll's Beautiful Creatures (Little, Brown, 2009) and Lauren Kate's "Fallen" series (Delacorte) and is highly recommended for both school and public library collections.
---
Monday Memories is an original feature/weekly meme created and hosted by Miss Print and the Book Bandit. We created Monday Memories because we both love and collect books and wanted to talk about them. We hope you'll want to share too.
Anyone can join. But please, if you join in the fun,
link back
to 
Miss Print
and/or
the Book Bandit
on your own
Monday Memories
post AND add your name to the Link list included with our posts every week so that everyone can check out other posts! If you don't have a blog, you can post your thoughts as a comment. And, of course, have fun!
Now that you know how it works, here's what it is: Monday Memories is super simple. Just take a photo of a book from your personal library (or a library book that's significant to you, etc.) and talk about why it matters. Is it your first ever signed book? The first book you reviewed on your blog? Whatever it is, write it up in a Monday Memories post and share it.