Seize the Tuesday is a book blogger meme created by Adi Alsaid and the Let's Get Lost Buddies Street Team, to share stories about how we've seized the Tuesday, with a special focus on the particular book we're reading. We'll share our posts online with the hashtag: #LetsAllGetLost. The idea is to share little ways in which you may have embraced Bree's motto of seizing the Tuesday. To relate it to books, you can talk about what book you're reading, and how you stole some moments from the day to enjoy reading. It doesn't have to be about reading, but we all know that a well-read day is a day seized. The idea is not just to help spread the word on LGL, but also to remind people to live fully, even/especially if that means spending a part of your day reading.
---
Seize the Tuesday in a spontaneous, impractical manner. For example, writing a blog post about something interesting and spontaneous you read or did or saw today! Seize the Tuesday posts are best written on the spot and in the moment. Please ignore the fact that I queued up this post last Friday night. Okay? Okay.
Seizing the Tuesday is more than just saying Carpe Diem as you decide to get an extra donut, or go for a walk in the falling leaves. It's more than just seizing an opportunity to take a drive or go on an adventure or experience something new. It's seizing the day, and then sharing it with someone else. So get out there and Seize the Tuesday, people, and drag your BFF, your neighbor, your significant other, and/or unsuspecting bystanders along with you. 
If you're a librarian-type, I recommend seizing a book and shoving it in the hands/face of someone who might really need it. You know what I mean. That's my favorite way to share epic and spontaneous moments with people. After all, books are a great adventure!
---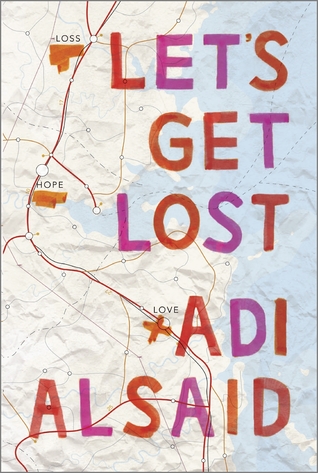 Let's Get Lost is the debut YA novel by Adi Alsaid, and he really gets it right the first time. This is a strong story that I highly recommend to anyone wanting a good contemporary story about love, friendship, family, and adventure. LGL is told in 5 parts, each one from a different character's point of view. I absolutely loved having multiple points of view in a single story – this is something that doesn't happen enough in YA fiction.
LGL is just as good as John Green's road trip novel, Paper Towns. In fact, I liked it better. It's more realistic, the characters have more depth, and while it isn't as funny, it's not meant to be comedic. Leila's road trip is a serious personal journey of discovery, and I loved being along for the ride. (For a full review, go here.)
Get the book and starting reading now! And while you're doing that, join the LGL Read-Along on Goodreads!