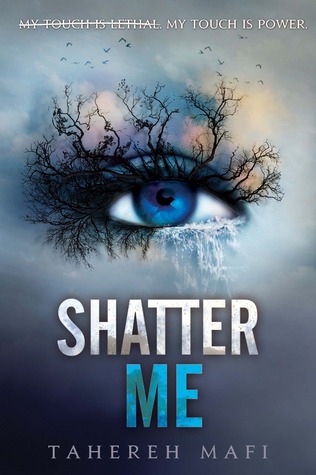 Summary from Goodreads:
Juliette hasn't touched anyone in exactly 264 days.The last time she did, it was an accident, but The Reestablishment locked her up for murder. No one knows why Juliette's touch is fatal. As long as she doesn't hurt anyone else, no one really cares. The world is too busy crumbling to pieces to pay attention to a 17-year-old girl. Diseases are destroying the population, food is hard to find, birds don't fly anymore, and the clouds are the wrong color.The Reestablishment said their way was the only way to fix things, so they threw Juliette in a cell. Now so many people are dead that the survivors are whispering war – and The Reestablishment has changed its mind. Maybe Juliette is more than a tortured soul stuffed into a poisonous body. Maybe she's exactly what they need right now.Juliette has to make a choice: Be a weapon. Or be a warrior.
---
I first read 
Shatter Me
by
Tahereh Mafi
over a year ago, at the beginning of 2013.
I was floored. Shattered, if you will.
I'd never read a book like this one. The strike-throughs. The writing style. The insanity. The unashamedly raw writing. I still think about this book a lot when I am writing, when I'm trying to express a character's particular voice in my writing. I think about this book when I'm reading other dystopian books. I compare so many other books to Shatter Me, still. Even now. And when the final book in the series came out, I just – just – Ugh. It was so perfect. So intense. So amazing.
Anyway, here is my 2 sentence reaction from when I first read it:
"I loved the writing style and quirkiness of this book. Juliette's stream of consciousness narration is so much like how I experience life, how I write and think and sometimes talk.
I could really relate to her, her little bit of craziness got inside my head, and I loved it."
---
Monday Memories
is an original feature/weekly meme created and hosted by 
Miss Print
and
the Book Bandit.
We created Monday Memories because we both love and collect books and wanted to talk about them. We hope you'll want to share too.
Anyone can join. But please, if you join in the fun,
link back
to
Miss Print
and/or
the Book Bandit
on your own
Monday Memories
post AND add your name to the Link list included with our posts every week so that everyone can check out other posts! If you don't have a blog, you can post your thoughts as a comment. And, of course, have fun!
Now that you know how it works, here's what it is: Monday Memories is super simple. Just take a photo of a book from your personal library (or a library book that's significant to you, etc.) and talk about why it matters. Is it your first ever signed book? The first book you reviewed on your blog? Whatever it is, write it up in a Monday Memories post and share it.