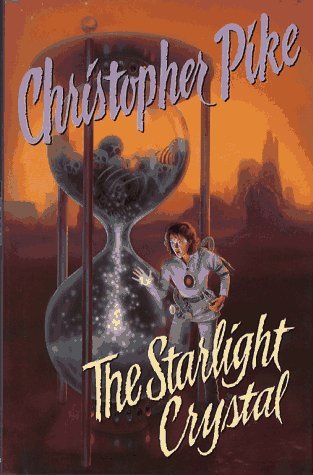 I have a Goodreads shelf just for
Christopher Pike books
. I own more of his books than any other author. I really should have done a Christopher Pike book for my first Monday Memories, because these are seriously the books that have impacted my early readership the most, and they are the books I spent the most time reading as a teen. His books for teens have ridiculous titles like
The Visitor
, 
Monster
, 
Road to Nowhere
, and 
Whisper of Death
. The covers are equally outrageous, as you can see right over there.
I picked up my first Christopher Pike book after I had read all the R.L. Stine books and then all of Pike's Fear Street books. These were exactly what I wanted: books about teens discovering themselves, their magical powers, that they were a clone, or a vampire, or a reincarnation of a long-dead mystic. They were strange, a little creepy, really new age, pretty short, and a little bit mature. They were perfect. I could read one in a couple hours, and I often reread them.
 It's about a girl named Paige.
"Are you the first page, or the last?"
Sounds like a cheesy pick-up line, right? Okay, so it kind of is. But it's also the crux of the story.
Paige follows her father into a deep space mission, and she discovers things about herself, her past, and the future of the entire human race that she never would have expected. I really connected with Paige's journey. I know, it's not like I had to deal with issues of time dilation and hydroponic spaceship gardens, but Paige is so very alone for most of her journey. She is alone, she is discovering what she is capable of, and she is making things happen. She takes risks and adventures through time and space, and she has an incredible destiny that she must embrace. I'll admit, the whole plot might be a little cheesy – but I still really love it. This book means so much to me. My personal copy is a tattered wreck that has somehow managed to stick around through no less than 8 moves. I've read it at least 5 or 8 times. I am sure I will read it again many more times until I am no longer able to read.
---
Monday Memories
is an original feature/weekly meme created and hosted by 
Miss Print
and
the Book Bandit.
We created Monday Memories because we both love and collect books and wanted to talk about them. We hope you'll want to share too.
Anyone can join. But please, if you join in the fun,
link back
to
Miss Print
and/or
the Book Bandit
on your own
Monday Memories
post AND add your name to the Link list included with our posts every week so that everyone can check out other posts! If you don't have a blog, you can post your thoughts as a comment. And, of course, have fun!
Now that you know how it works, here's what it is: Monday Memories is super simple. Just take a photo of a book from your personal library (or a library book that's significant to you, etc.) and talk about why it matters. Is it your first ever signed book? The first book you reviewed on your blog? Whatever it is, write it up in a Monday Memories post and share it.