A few years ago I was visiting my parents in New Jersey.
"Caela," my dad said across the dinner table, "my friend wrote a book you might be interested in."
"Oh yeah?" I said.
"It's a memoir about raising his son who is gay."
I snorted at this. I made a disgusted face.
"What?" my dad said.
"I mean," I said, "It was that hard for him? He had to write a memoir to deal with it?"
My dad was nodding seriously, but I was enraged. I kept right on talking.
"It's the same thing as raising any kid, Dad. You support; you love; you hope your kid finds love. You hope he's happy."
"Caela," my dad stopped me. "His son attempted suicide. When he was in middle school."
"Oh." My rage at this dad-friend-of-my-dad's died immediately. It turned out this was not a memoir about learning to accept and love your son "even though" he is gay. This memoir was written by a father who was nothing but supportive. It was about a family that was nothing but supportive. This was a memoir about advocating for your son's normalcy, about targeted bullying, about how far we still have to go to be able to support our LGBT youth, even the ones from the most supportive of families.
So I read John Schwartz's ODDLY NORMAL. I devoured it actually. I passed it off to my husband and my friend and my sister-in-law. I read it again. I discussed it and discussed it and discussed it.
What rang like an alarm through my brain was that Mr. Schwart's son was not the damaged one. He was a talented, smart, funny middle-schooler from a good home with supportive parents. The damage was all coming from the outside. The damage was in his schools, his friends, his enemies, his teachers. It was these people who needed to learn to be their best selves. It was these people who were mean or, more often, utterly clueless. And of course all of that negativity managed to burrow it's way into Joe Schwartz.
I poured all of this into Sadie, the maybe-best-friend of the protagonist, Colette, in MY BEST FRIEND, MAYBE. Sadie is not perfect. She's been infected by the negativity bug. All of her decisions and manipulation are sure to be met with frustration and anger. But the truth is, it's impossible to hide parts of who you are and still be your best self. Sadie has been forced to slice her personality into different little pieces. And she probably won't be "likeable" until she stitches them together.
But MY BEST FRIEND, MAYBE is not Sadie's story. It's Colette's. And I think Colette's journey is as important to our society, to our ability to accept and praise differences, to the eventual end of harming people like the fictional Sadie and the very real Joe Schwartz.
MY BEST FRIEND, MAYBE is not a "coming out" story. It's not a story about a girl coming out of the closet and admitting she is gay.
It's about coming out of the other closet.
It's about admitting you are an ally.
---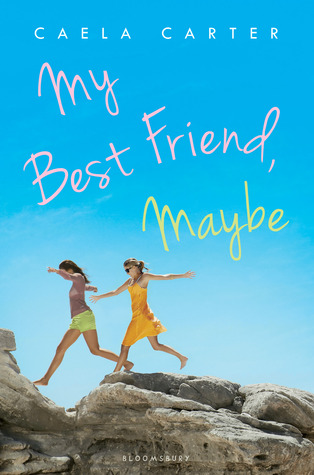 Thank you, Caela Carter, for sharing this story with us! If you want more of the inside scoop on MBFM check out Caela's website. 
MY BEST FRIEND, MAYBE by Caela Carter is now available, so head out to your local bookstore or public library and get a copy today!
WorldCat  ~  Amazon  ~  Indiebound
Did you love MY BEST FRIEND, MAYBE? Try these books next!