I was recently diagnosed with Asperger's Syndrome, an autism spectrum disorder on the high-functioning end of the spectrum. The diagnosis came as a relief, and a welcome way of understanding my differences from neurotypical people and my struggles after entering the professional workforce.
AS presents differently in women and men. The UK-based National Autistic Society has put together an easy to understand resource explaining these differences. But for me, it means not being able to meet the general expectations for female behavior. A major part of Asperger's Syndrome in girls is the ability, and the drive, to observe, analyze, and then imitate social behaviors. While most females find it natural to chit-chat, speak in polite niceties, and empathize with others, females with AS simply pretend. And we pretend so well, we convince the people around us, and sometimes ourselves, that we know what we're doing. We want to fit in, to seem normal, and this imitation is our primary strategy. 
Another challenge I face is that I have interests that align more with the typical male's, and communicate and socialize in a way that is typically male, which can be surprising and often intimidating to others. This is one of several reasons I subscribe to the extreme male brain theory of autism, first presented by Simon Baron-Cohen over a decade ago.
At a certain point in my life I decided to stop pretending. This didn't happen all at once, and it didn't always work, but I tried so very hard. The result is a very long and personal story that I won't recount here, but the conclusion is that I am more myself than I have ever been. However, this became a problem in the workplace.
Social niceties, chit-chat, a finesse for politeness, understanding of unspoken assumptions and agreements, and a strong theory of mind are all quite necessary in any workplace. I struggled with these things, and more, because of my AS. With help from my best friend, from my boss, my mentor, my understanding coworkers, and a lot of work from myself I overcame these challenges. I will never fully "fix" these problems, because they really aren't things that need fixing. My AS symptoms are not something to be cured. They are a part of me, and when they interfere with my ability to perform at my job I work to overcome that. It's exhausting, draining, confusing, and incredibly challenging, but I do it. Because I love my job, I value it more than almost anything else in my life right now, and I believe that I can make a difference – both in my own life and in the lives of others.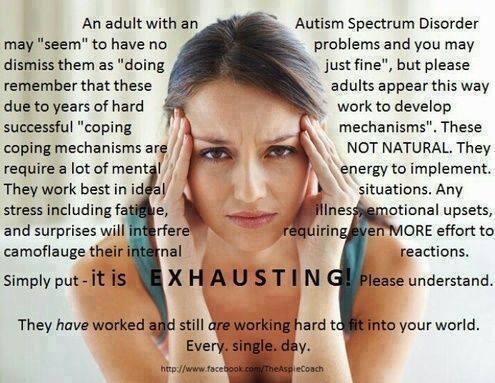 There are so many parts of myself that stem from Asperger's Syndrome, and I wouldn't be myself without them. I wouldn't be where I am today; instead, I would be stuck in the past, miserable and unable to move forward or succeed. I am brave (I take chances), honest (sometimes to the point of rudeness), ambitious (which can be intimidating), with a unique perspective (but the rules shouldn't always be questioned), and a knack for seeing details others don't notice (which can be very distracting). I have learned to embrace what makes me different, and that includes much of myself that doesn't have anything to do with AS. But without AS, I wouldn't have learned to be so accepting. First accept yourself, be happy with yourself, or you won't be happy with anything.
I will continue to write about my past and present experiences with Asperger's Syndrome here, now that I'm being open about it. I feel like it's coming out day. Disclosure about AS isn't easy, but it really is worth it!